HAND MADE ORIGINAL ETCHING

Hand made on a traditional etching press from an etched metal printing plate. Printed on 300gsm Hahnemühle etching paper. Image 57 x 37cm, paper larger by 15 cm all round. Edition of 50, each signed and numbered in pencil in the margin.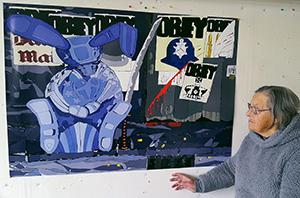 POSTER EDITION PRINT:
Not to be confused with the above. It's a poster, but a very good quality one. 175gsm semi gloss paper. Open edition: not signed, not numbered.
PRICE INCLUDES DELIVERY TO UK, USA and EU ADDRESSES.
Delivery about 7 days. Made "on site" in the customers own locality to reduce carbon footprint.